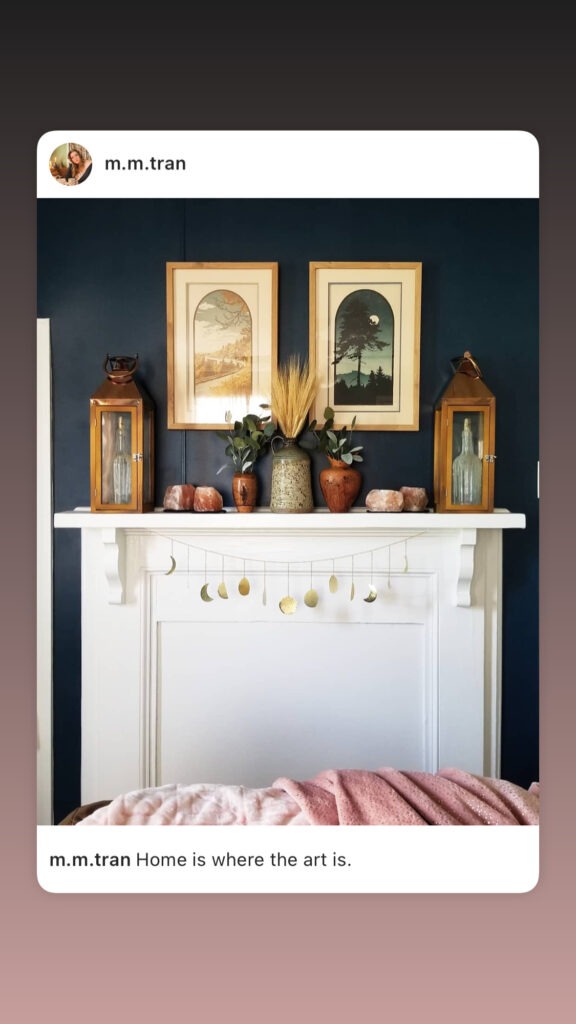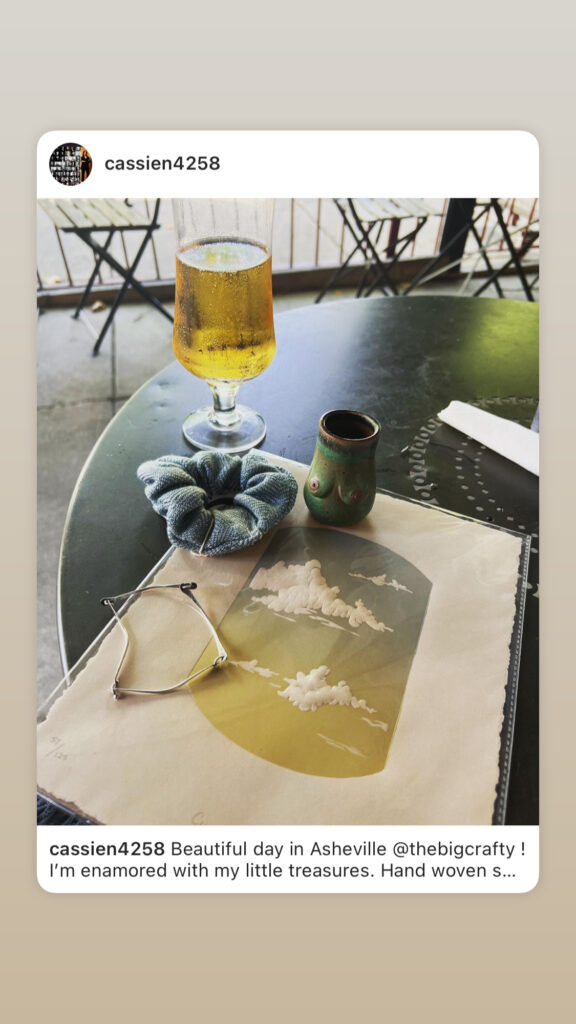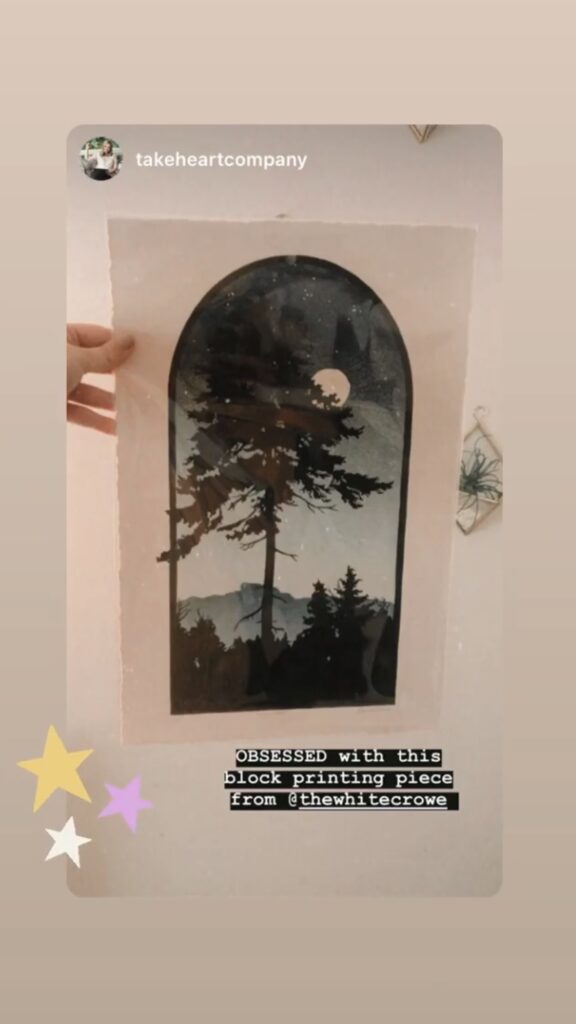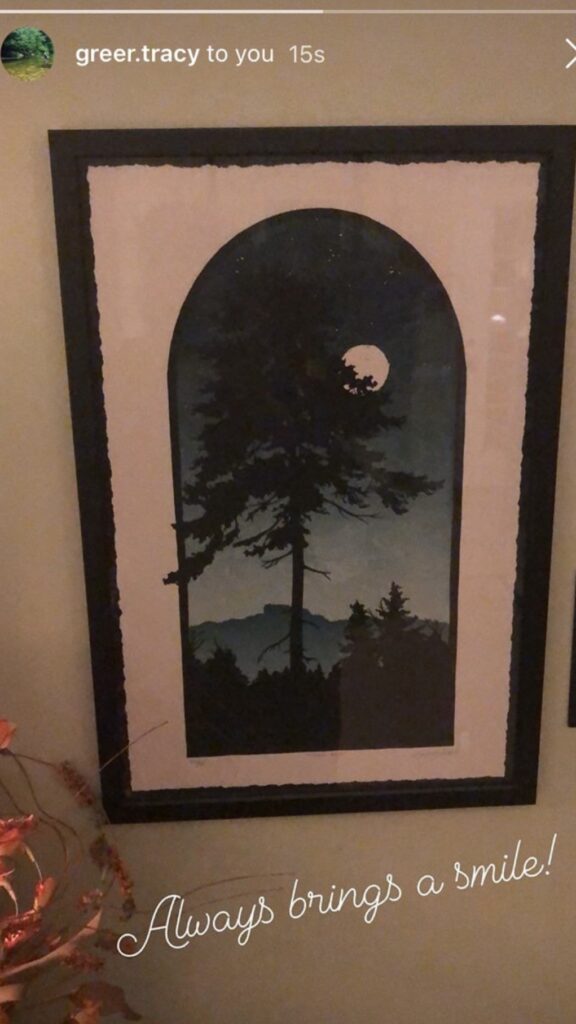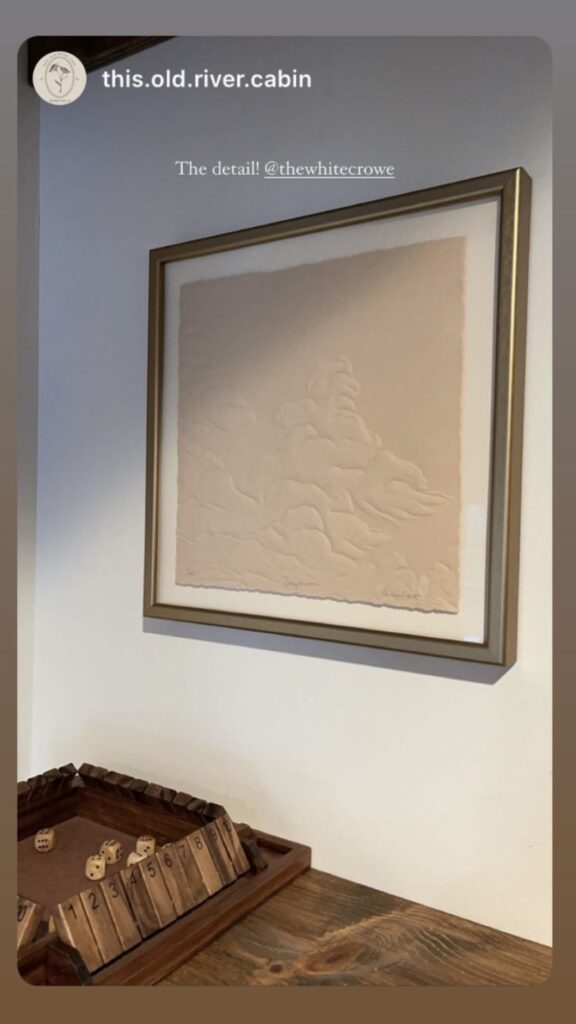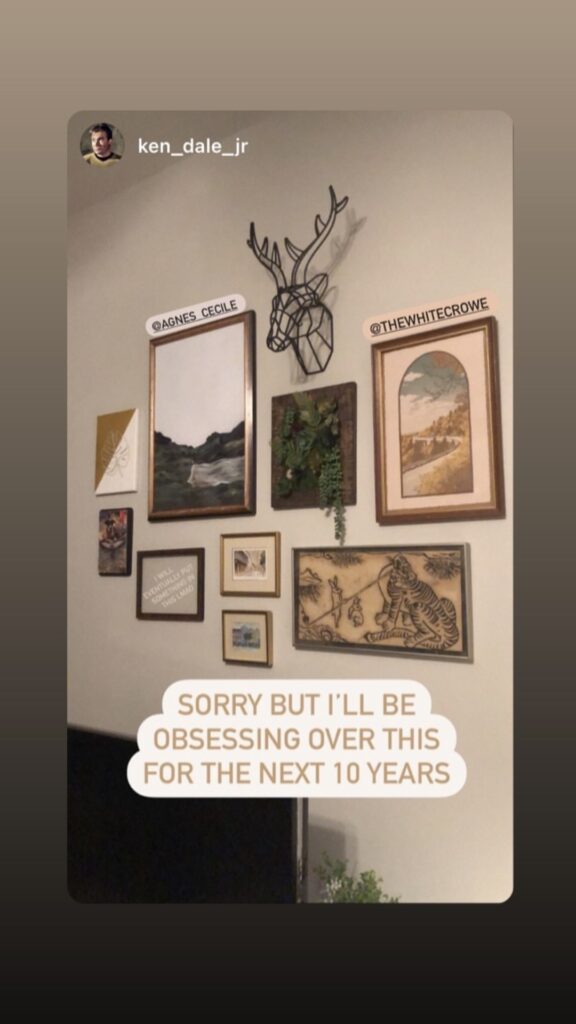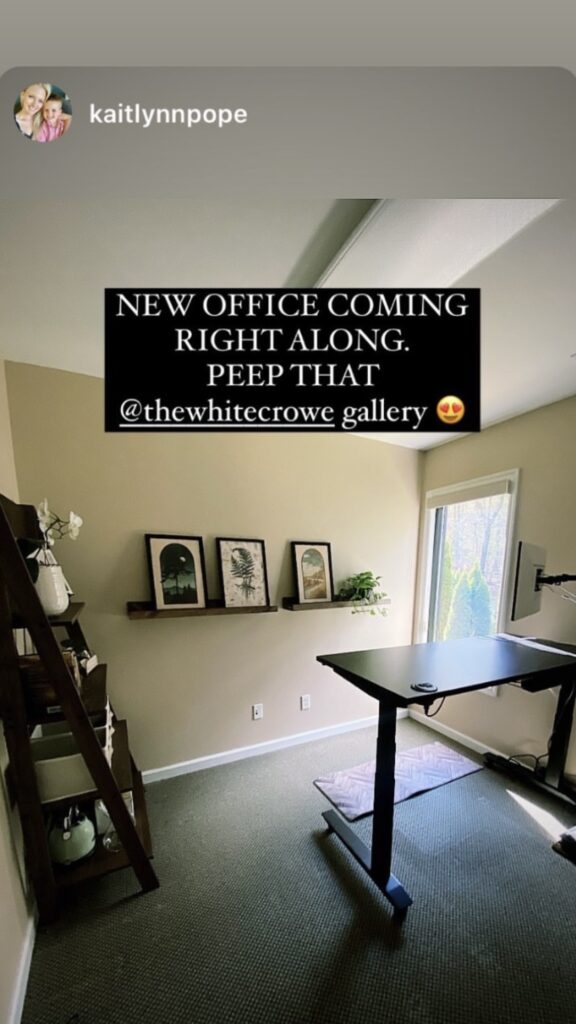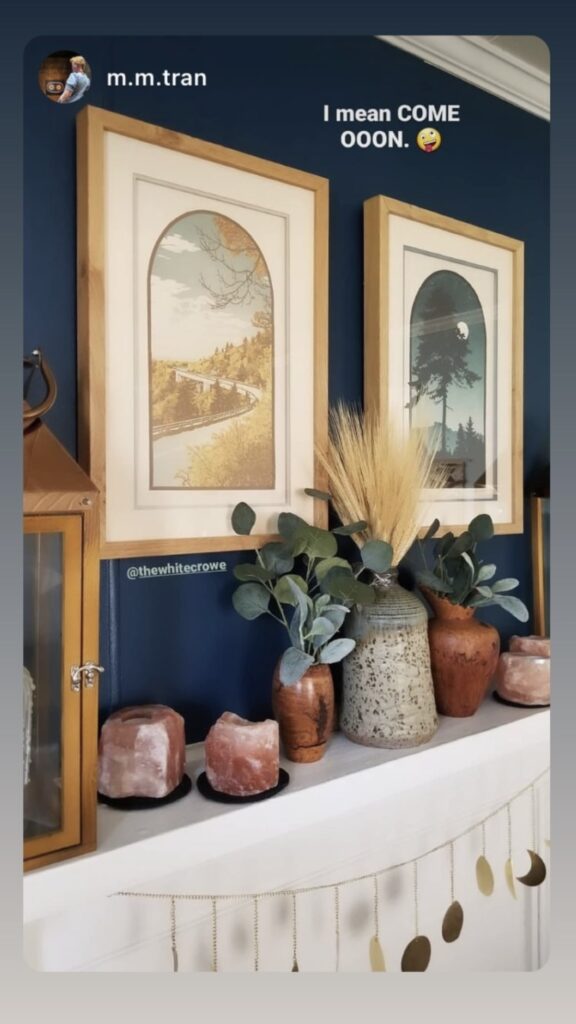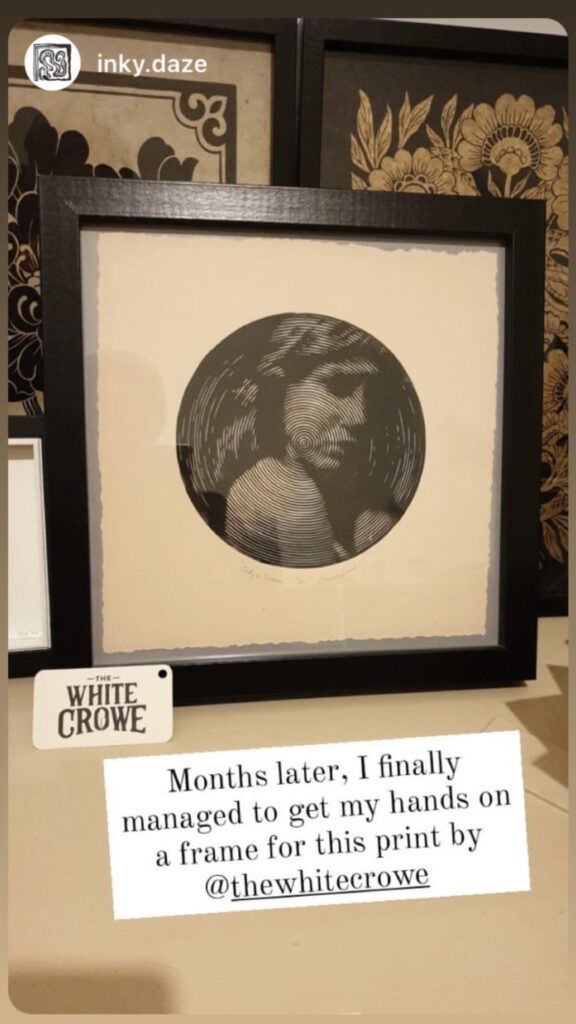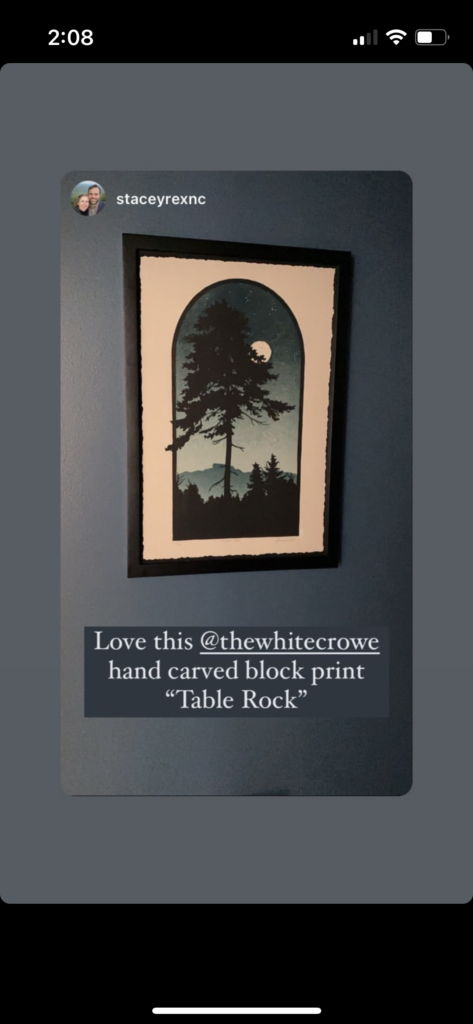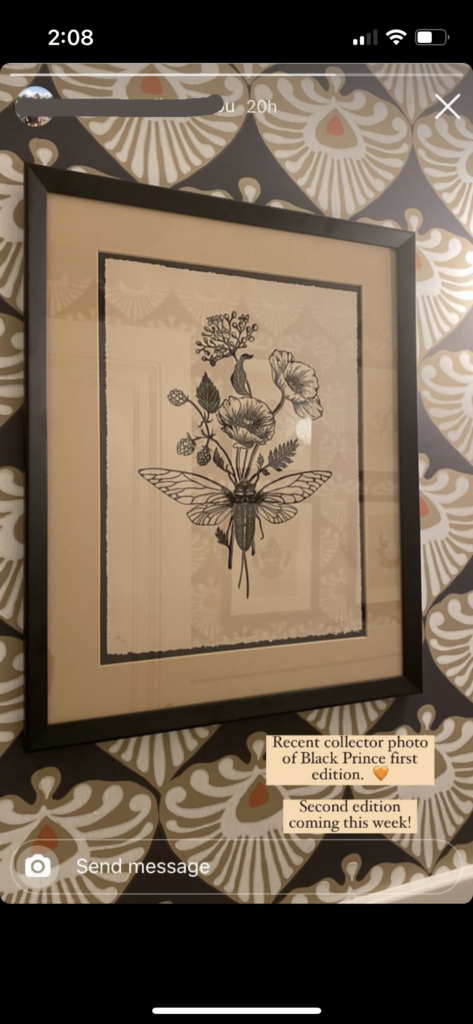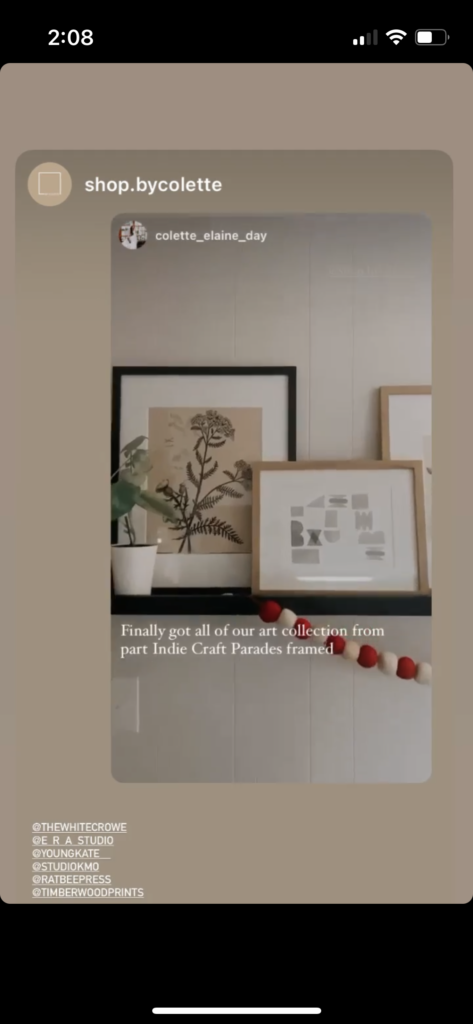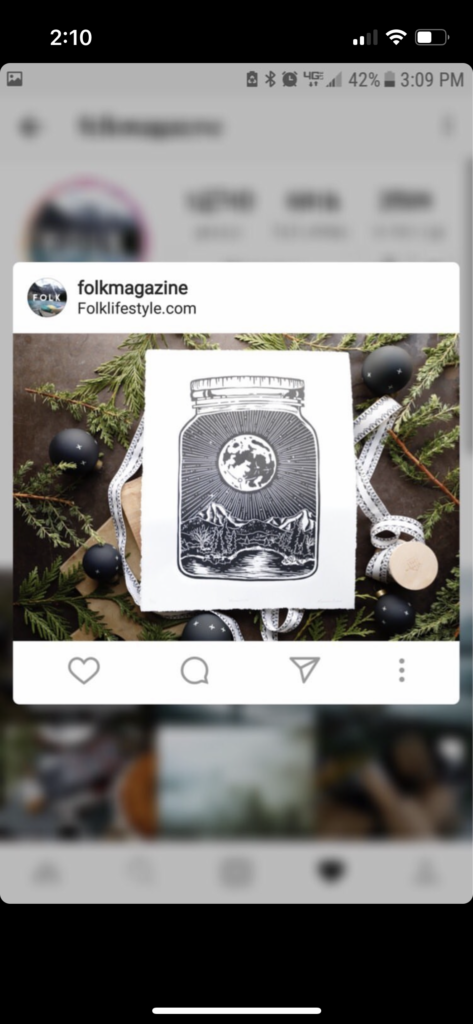 I bought my first piece, "Beacon Heights" from Lauren in 2017 just as we moved back to the high country. It perfectly captures the beauty of one of my favorite places. Later that year my husband bought me "Moonshine" as a gift on our wedding day, a stunning piece that we cherish so much. We bought "Forest Floor" a couple of years ago and its delicate beauty really brings to life the small miracles along the trails we love so much. Lauren's work not only beautifully captures the natural world, but also helps make our house into a home.
When I first discovered Lauren's work, I was obsessing over her creation process of the "Linn Cove Viaduct" reduction-method print. I fell in love. I grew up pretty low income, and our family vacations were always humble trips to the Western North Carolina mountains. You wouldn't know those vacations were humble by the look on my face. I was always enraptured by the Blue Ridge Parkway, the blue gradient horizon lines that seemed to stretch into forever, and the creatures that inhabited the rolling hills and forests. The mountains are a place of peace, restoration, adventure, faith, and self-discovery for me. That feeling carried over into my relationship with my now-husband, whose love of the mountains is equal to mine. When we moved into our first home, I saved the wall space above our living room mantle for something special. I grew up to work in the arts, directing galleries and representing artists of all disciplines, but I've always had a soft spot for printmaking. The intimacy and the relenquishing of control – there is a divine faithfulness in the letting go and the unfolding of the final image. Later, when I found Lauren's "Table Rock" print on the White Crowe website, I knew that it and "Linn Cove Viaduct" needed to be twin spirits above my mantle… they embody the light and the dark, the ins and the outs, and the ebb and flow of life, and everything in between that would be a part of our sweet little home together (a milltown bungalow built in 1930, with so much life and history its own). I have a husband who pays attention, and so unexpectedly, on Christmas morning a couple of years ago, I unwrapped a cardboard tube. Inside it was a twin set – two prints, the prints I loved and wanted – the sweetest gift. I was ELATED. We had them specialty framed, and they live happily in unison together above our mantle, where I knew they always belonged. Thank you, Lauren! Thank you for giving visual life to a feeling and a memory that so many of us know, love, and cherish. You are MAGIC.
I just met Lauren and found her work a few weeks ago. I absolutely loved her "Grandfather Mountain" print as soon as I saw it. My art selection criteria is 'does looking at it make you happy?' I'm love seeing it every time I come home on the wall with the rest of my collection that just makes me happy.
I have several of Lauren's prints in my home. I'm fascinated watching the videos of her carving the images and the skill and amount of time each piece takes. I collect handmade goods like pottery, wood carvings etc…. When I look at these I think of the artist. My White Crowe pieces make me smile when I see them everyday. Thanks Lauren for your beautiful work.
I received two of Lauren's prints for my 21st birthday over a year ago. She worked closely with my mum to have them shipped to Australia – no small feat – and they arrived perfectly (as a surprise on the day). Through some hard times, I was able to wake up everyday to look at them and their beauty, which never failed to have me smiling. It is simple to appreciate their aesthetic, but to understand the time that is dedicated to a sole print and its details accentuates its value. I once had a friend comment that it was a nice picture, then I explained that it was composed of numerous layers hand cut – needless to say they were impressed. They remain, to this day, my favourite pieces in my ever growing collection.
When my husband and I purchased our first home a few years ago, there were two things I knew in my heart that I wanted for it. A library, and artwork. I'm so grateful to say I have both! Since we moved in, I have slowly been collecting pieces from small artists and three of those were done by the incredible Lauren. Two I have been able to have framed and have become apart of our little gallery wall and the third I am hoping to have framed soon. Every time I look at her artwork, and the other pieces I have, I am amazed that someone's hands created it. The time, effort, probably some blood and tears, and the love that gets poured into the work is so admirable. Lauren is such a sweet soul and I can't recommend her and her art enough. Thank you for helping our house to feel like a home!
We just moved into our new home and your piece hangs proudly in our primary bath. It looks lovely. I have a passion for wildflowers, lichen, and fungus. I run regularly in Bent Creek and other trails stopping to appreciate our natural beauty. That is why we purchased this special piece of art.
Lovely print! It makes me so happy to look at each day. Very nicely packaged!