Lauren Crowe's passion for nature and creating things with her hands began during her upbringing in the Smoky Mountains of North Carolina. However, it wasn't until she attended Appalachian State University to study graphic design that she truly delved into the world of art as a potential career path.
During her time at the university, Crowe had the opportunity to take a relief printmaking course, which sparked an immediate fascination within her. The art form provided Crowe with a means to harmoniously blend her digital and analog skills, captivating her with its allure from the very start.
After graduating in late 2016 with a Bachelor of Fine Arts degree in graphic design, Crowe secured a full-time position as a graphic designer at a humanitarian aid non-profit organization. Despite her professional commitments, she didn't abandon her love for printmaking. In her personal time, she continued to explore this medium in her home studio during nights and weekends.
However, after dedicating five years to the field of graphic design, Crowe made the decision in 2023 to pursue printmaking as a full-time endeavor. This leap allowed her to fully immerse herself in her passion and devote her energy to honing her skills and creating art through the medium she loves.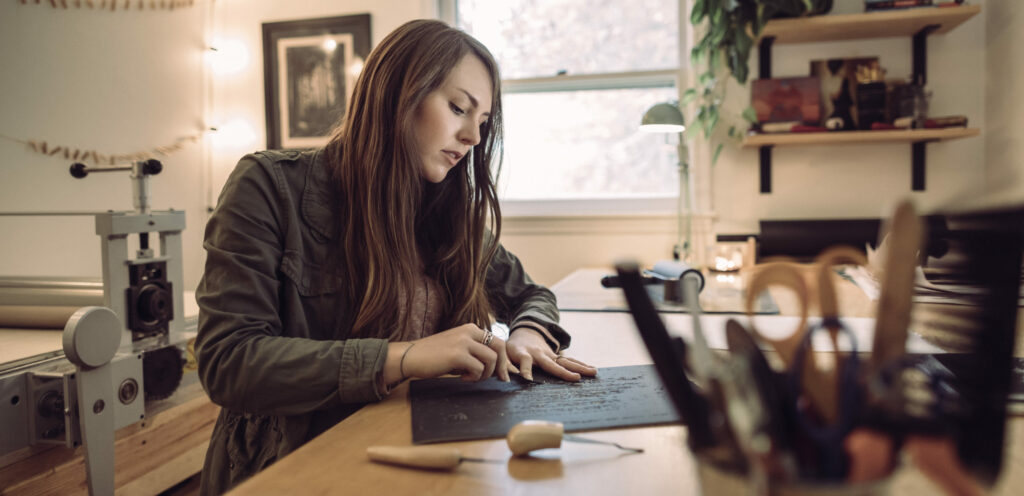 As her studio sits among the stunning landscapes of western North Carolina, Crowe's inspiration is drawn from the rural surroundings of the region, and her work often captures the essence of fleeting moments in time.
As someone who has battled anxiety since childhood, Crowe finds solace and motivation in the mental health benefits of experiencing the natural world. She is passionate about the ways in which both art and nature can support mental wellbeing. 
The precise and deliberate process of printmaking allows for intentionality, mindfulness, and a slower pace that encourages the unexpected. This slower, handmade practice can develop textures, embossing, and valuable imperfections that lend each piece its own unique character.
Crowe's work invites the viewer to connect with the natural world in their own personal way. Each piece is infused with a sense of familiarity that evokes memories and personal stories. By doing so, she hopes that her work not only captures a moment in time but also serves as a source of healing and connection for the viewer. In a world that often moves at a rapid pace, Crowe's art invites us to pause, reflect, and appreciate the beauty that surrounds us. Her work serves as a reminder to slow down, immerse ourselves in nature, and cherish the fleeting moments that bring joy and inspiration to our lives.
"Crowe is driven by her appreciation for the analog slowness of printmaking, the problem solving challenge of each project, and the meditative quality of it."
Article: Waking up in Boone